Tuesday, August 1st, 2017
The Christchurch team are busy with a range of interesting projects in the midst of the Christchurch rebuild, and ongoing demand for BAU hydraulic servicing and hire work. With a growing team and increasing business, the project to move to new larger premises is underway. Watch this space! Huge new barrel manufacture for Macraes a […]
---
Tuesday, August 1st, 2017
Are you using the correct torque sockets? Enerpac heavy duty torque sockets are specially designed for torque bolting. Our sockets are forged in Sweden – and they are still a great price! While stocks last we'll give away a free magnetic rail worth $40 with any order of over six 1″ or larger sockets.  Forged […]
---
Tuesday, August 1st, 2017
Grab a great deal on RCH-series hollow cylinders with over 20% off Trade Price  until the end of September! 13-ton RCH123: $660 20-ton RCH202: $1055 30-ton RCH302: $1219 60-ton RCH603: $2485 Why Enerpac Holl-o Cylinders? Enerpac hollow cylinders provide versatility in testing, maintenance and tensioning applications. Single acting, spring return Collar threads for easy fixturing Floating centre tube on […]
---
Monday, July 31st, 2017
After a couple of years with almost no staff turn-over, we were unlucky to lose several members of our team late last year and had to go on a major recruitment drive. It has been a challenge keeping up with the workload and managing to meet our usual hi-speed turnaround that we are known for. […]
---
Tuesday, July 25th, 2017
Jonel are sponsoring the North Canterbury under 12 boys rugby team who are currently preparing a representative campaign and will play teams from across the Crusaders region. At this junior level teams are only provided with the minimum essentials and we are proud to assist with rewarding the boys for their selection at a representative […]
---
Wednesday, May 17th, 2017
Taking the stress out of cutting your strand – No more unsafe grinding USH06-0 Enerpac Utility Strand Shear Cutter $4,999 + GST 230V Electric/Hydraulic Strand Cutting Tool Open throat design One size cut all up to 19mm (0.74") super strand Valve; Advance/Hold/Release – manual operation Max pressure; 8400PSI Max current draw; 15A Transparent guard protects against […]
---
Monday, May 8th, 2017
Enerpac PTJ Series Single strand stressing jacks PTJ5S (20T) $2,895 PTJ6S (30T) $4,499 See product information for these stressing jacks here. Enerpac ZU4408REA300 $4,995 1.2KW single phase electric pump 'Bleed Off' valve to ensure controlled strand release Optional Heavy Duty Pendant, pay an additional $199 See more information on this electric pump here. […]
---
Monday, May 8th, 2017
No stranger to success, Toni Vermeulen has already clocked up a fantastic career, working in the heavy automotive sector.  Her new role with Jonel Hydraulics encompasses assisting customers across the Auckland and Northland territories, and implementing new processes to help refine the business's internal practices. Toni has worked alongside Jonel Hydraulics as a supplier in the past […]
---
Monday, May 8th, 2017
The 2017 Transport and Equipment EXPO was a great event – next we're off to SouthMach in Christchurch! 24 – 25 May 2017 – Horncastle Arena Christchurch Jonel provides a complete hydraulic solution for all your jacks, pumps and tooling needs. We have a comprehensive range of premium hydraulic equipment for sale, hire and a certified […]
---
Monday, February 20th, 2017
Jonel Hydraulics are exhibiting at T.H.E Expo – Transport & Heavy Equipment Expo at Mystery Creek 2-4 March 2017. Come and see us at Site 4 in the Marquee. To get your FREE entry tickets, just click to register now.
---
Tuesday, February 7th, 2017
The Hydraulic Cylinder Service and Build team is full throttle as we head into 2017. With additional staff brought into the workshop last year, we're prepped and ready to churn through some high spec precision cylinder repairs and builds. "It's great to see the workshop so busy and the hydraulic team so focused" said Dean […]
---
Monday, February 6th, 2017
Low Height Cylinders & Ultima Hand Pump offer – RCS Series 10-ton RCS101: $449 plus GST 20-ton RCS201: $590 plus GST 30-ton RCS302: $749 plus GST 45-ton RCS502: $960 plus GST      Contact Jonel's Tooling team on 0800 JONELS (0800 566 357) or enerpac@jonel.co.nz. Download the promotion flyer here. Promotion ends 31 March 2017.
---
Wednesday, February 1st, 2017
It's been almost three years since Jonel Hydraulics moved to our new purpose-built premises in Blackburn Road. In that time all our departments have experienced steady growth, boosted by the services of our business development manager. As always, our focus remains on our customers, and our growth strategy. Our growth strategy includes a focus on lean & efficient service […]
---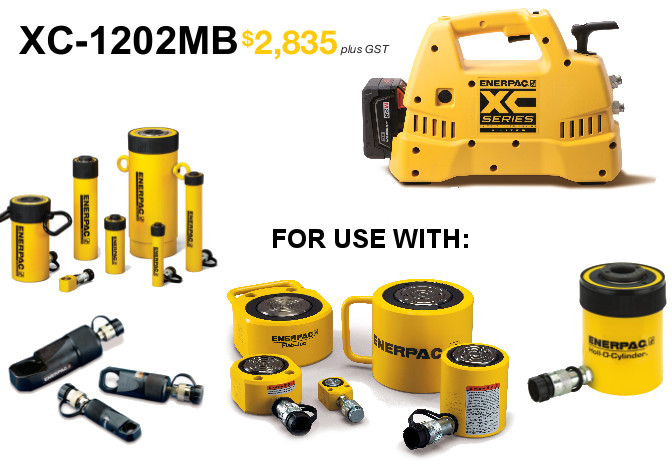 Wednesday, February 1st, 2017
Try our cost effective battery pumps and get moving with Enerpac! XC Series Single or Double acting pumps 700 Bar pressure rated 2 litre oil capacity Suits most single or double acting cylinders to 50 tonne PLUS: Ask us about our HC Series Hoses. Download the special offer flyer here. Model priced is single acting operation […]
---
Tuesday, November 29th, 2016
Jonel is a stable company which has been trading for more than 30 years. The company is progressive and has a growth oriented company culture. We are NZ's largest hydraulic cylinder repair shop and also have a substantial hydraulic tooling division, a hydraulic servicing division and a second workshop in Christchurch. We work with many […]
---
Thursday, November 24th, 2016
The summer holiday season is fast approaching.  With time passing by we kindly ask you to confirm your upcoming jobs as soon as possible – we would hate for cylinders, jacks or tooling to be stuck in the queue over the summer break. Give the guys a call now on 0800 JONELS (0800 566 357) […]
---
Wednesday, September 7th, 2016
Enerpac Holl-O-Cylinder Offer includes:
RCH123 (13-ton) Hollow Jack, 76mm stroke
RCH202 (20-ton) Hollow Jack, 49mm stroke
RCH302 (30-ton) Hollow Jack, 64mm stroke
RCH603 (60-ton) Hollow Jack, 76mm stroke.
---
Monday, September 5th, 2016
Check out our great deals on our Enerpac Pneumatic PTW Series Torque Tools:
PTW1000C is 1000Ft.Lbs Tool
PTW2000C is 2000Ft.Lbs Tool
PTW3000C is 3000Ft.Lbs Tool
PTW6000C is 6000Ft.Lbs Tool
---
Wednesday, August 31st, 2016
Counterfeit tools may look the same as Enerpac tools, but they are far from it. They have not passed the same rigorous certification and testing, they do not have the same traceability. Is it worth the risk buying counterfeit products when operating 700 Bar tools? Always ask for 100% Genuine Enerpac hydraulic tools. Buy 100% Genuine […]
---
Wednesday, August 10th, 2016
Special pricing valid during August 2016 or while stocks last – Limited Stock, get in fast!
---
Sunday, June 5th, 2016
Taking the stress out of updating your pre & post tension equipment! PTJ Series single strand stressing jacks PTJ5S (20T) $1,995 PTJ6S (30T) $3,995 View the stressing jacks here. 'Double Acting' Enerpac models to suit every stressing application 6DAH306      $2,645 6DAH308      $3,290 6DAH3012*  $3,949 *30 Ton Capacity in 150, 200 […]
---
Wednesday, May 18th, 2016
From concept to working model, Jonel Hydraulics can design and create the hydraulic tooling you need. While remaining true to our core expertise in hydraulics, we have solved a number of challenges for our customers over the years with custom hydraulic solutions. Over the years there have been many more custom projects like the lift Aotea […]
---
Tuesday, May 17th, 2016
P39 ULTIMA Hydraulic Steel Hand Pump Enerpac high pressure hydraulic steel hand pumps are the solution for tough jobs Reduced handle effort and ergonomic grip for less operator fatigue Vent free reservoir eliminates spills Quick grip handle allows for easy transport Integral reservoir over-pressurization protection All steel construction, chrome plated plunger and wiper system for […]
---
Monday, May 9th, 2016
Promotion valid from 1 May to 31 July 2016. All prices excluding GST. Pricing is nett, based on 20% discount off trade list price.
---
Thursday, March 17th, 2016
Grab some great deals on these Enerpac jacks, pumps and accessories – during March & April 2016 or while stocks last, at Jonel Hydraulics.
---
Monday, February 8th, 2016
Pick up a fantastic deal with the Enerpac Porta Power Set from Jonel Hydraulics Get 20% off the trade price on a set (cylinder, P392 700 bar rated hand pump, GA45GC gauge and 1.8m HC7206C hose). We'll also throw in free gloves and a free carry case.
---
Friday, December 4th, 2015
All of us at Jonel thank you for a great 2015 Despite all the ups and downs – overall we had a super year! Our team have worked really hard and deserve a good break. So, our last full working day for this year 2015 is Friday 18th December 2015 – we will close at 4pm. […]
---
Monday, October 19th, 2015
Give us a call on 0800 566 357 to take advantage of this exclusive Jonel Hydraulics offer. Promotion valid from October – December 31, 2015.
---
Tuesday, September 15th, 2015
The all new Enerpac PTW-Series Pneumatic Torque Wrenches are now available in New Zealand. These tough and reliable tools are designed to provide fast, safe, and simple fastening for applications that require controlled bolting solutions. The Pneumatic Torque Wrench tools are robust enough to withstand tough job site conditions, and are ideal for applications with […]
---
Sunday, August 23rd, 2015
Enerpac supplied its high pressure hydraulic cylinder technology for the topsides lift system beams on the Allseas 'Pioneering Spirit' vessel. 'Pioneering Spirit' is the world's largest platform installation/ decommissioning and pipelay vessel. The vessel's 16 lifting beams feature 64 Enerpac CLRG-Series high tonnage double acting hydraulic cylinders arranged in groups of four. Designed specifically for […]
---
Saturday, August 1st, 2015
Check out this exclusive offer from Jonel Hydraulics. Get an Enerpac Hydraulic Starter Kit and get to work!
---
Tuesday, July 7th, 2015
Jonel help with synchronised lifting of bridge NZTA have completed the widening the Thorndon Overbridge to create a fourth lane. Widening a large structure like the overbridge would need a significant amount of structural work, and because the stub off-ramp bridge is very near, it's more practical and cost-effective to move and re-use that structure, rather than […]
---
Sunday, June 14th, 2015
Enerpac introduces the all new PTW-Series Pneumatic Torque Wrenches. These tough and reliable tools are designed to provide fast, safe, and simple fastening for applications that require controlled bolting solutions. The Pneumatic Torque Wrench tools are robust enough to withstand tough job site conditions, and are ideal for applications with a high volume of fastenings […]
---
Tuesday, June 9th, 2015
Yesterday Neville Stuart from Enerpac NZ and Jonel's George Pavletich put on a barbeque lunch at Shell Todd Oil Services (STOS) tank farm site in New Plymouth to thank STOS for Jonel's Vendor Number approval while introducing Jonel and Enerpac in more detail to the teams on site. The BBQ also included a display showcasing the range of […]
---
Thursday, May 28th, 2015
Try our cost effective starter kits and get moving with Enerpac! Enerpac Starter Pack One – only $935 +gst P39 Single acting steel hand pump, 700 Bar pressure rated, 0.77 litre oil capacity. Suits all Enerpac cylinders to 20 ton. Enerpac RC102 Cylinder 10 ton single acting cylinder, 54 mm stroke. Enerpac HC7206 1.8 m hose with coupler. Inquire […]
---
Saturday, May 23rd, 2015
Just like Jonel, Shane has been working in the  heavy engineering industry for over 30 years. This included managing industrial products such as Enerpac for Paykel Engineering Supplies and the last 10 years in technical sales of bolting equipment and high force hydraulics. Shane is driven to help people develop equipment solutions that exceed expectations, […]
---
Saturday, May 9th, 2015
Jonel Hydraulics are proud to be associated with the Waterview Connection project. We enjoyed this drone fly-through shared by the Waterview Connection on YouTube.
---
Wednesday, April 15th, 2015
Enerpac has developed the new W-Series UltraSlim hydraulic torque wrench cassettes to provide a simple, durable and productive controlled bolting solution for narrow access applications. These narrow torque wrench cassettes combine the simplicity and durability of the trusted W-Series hydraulic torque wrenches with a stepped width bi-hexagonal design which allows the cassettes to be mounted over nuts and bolts […]
---
Sunday, March 15th, 2015
This customer contacted Jonel Hydraulics looking for a safer, more reliable and all-round better option than what has been available in New Zealand for their Mono Strand Pre-Stress Application. Our customer was really impressed with overall look, feel and most importantly the "Anti-Rotation Arm" included on these Mono Strand Stressing Jacks. The yard consist of […]
---
Wednesday, March 11th, 2015
Take the stress out of buying new stressing jacks and pumps with this promotion on Enerpac stressing equipment.
---
Monday, December 15th, 2014
With the improved weather the Jonel Hydraulics cylinder repairs team have seen a surge in digger cylinders coming in to be reconditioned. Dean Nadeem, Jonel Service Manager, explains "There is always extra demand when the weather improves, and after such a wet winter many businesses are playing catch up. They're working hard, the diggers are […]
---
Thursday, December 11th, 2014
Jonel Hydraulics systems and processes employ lean manufacturing principles throughout the business. The management team cultivate a company-wide commitment to quality and efficiency. From cylinder repairs to onsite hydraulic servicing, each step of every job is time managed and quality checked, and every opportunity for improvement is identified and acted upon. Staff training is a […]
---
Wednesday, December 10th, 2014
We wish all our clients a wonderful relaxing holiday break! Jonel Hydraulic's workshop will be closed from 19 December 2014 to 6th January 2015 while we carry out maintenance and upgrades, and our staff enjoy time with their families. As always, we're here for you if there is an urgent job! Simply call Jonel Service […]
---
Friday, October 31st, 2014
This impressive time lapse video shows Alice the Tunnel Boring Machine turning about at Waterview Jonel provided high tonnage Enerpac cylinders, some of which were purchased and some hired, along with the Enerpac Synchronised Lifting system which was used in this process.
---
Thursday, October 30th, 2014
Jonel Hydraulics and Enerpac partnered to attend the Oil & Gas Conference in New  Plymouth on 22, 23 October 2014. We managed to arrange best place for our stand, right outside main doors. Sales and Hire of our Torque Wrenches and Flange Tools was our main focus at this year's show, we clocked many enquiries […]
---
Sunday, September 28th, 2014
An Enerpac Sync System and many Enerpac cylinders were used in the positioning of the Tunnel Boring Machine, which began work in November 2013. 'Alice' emerged on Sunday the 28th and will now undertake the return journey.
---
Wednesday, June 25th, 2014
Enerpac's Regional Manager and Country Manager visited Jonel Hydraulic's new facilities recently and Enerpac Regional Manager for Australia and New Zealand, Denis Matulin, wrote to share his impressions: "Thank you for your recent invitation to visit your new facility. This is certainly a major investment in what we consider to be world class operation. As a […]
---
Monday, April 28th, 2014
Jonel staff and equipment are well ensconced at the new premises at number 7 Blackburn Road, East Tamaki. With a large indoor area the facilities also include an all-weather shelter which enables work on large hydraulic repair projects in any weather. The team are pleased that this means they will be able to deliver on […]
---
Tuesday, March 18th, 2014
It is an exciting time to be at Jonel Hydraulics, as we have relocated from Lady Ruby Drive to 7 Blackburn Road – still very much within the heart of East Tamaki. Important information: Our new address is 7 Blackburn Road, East Tamaki All phone numbers and other contacts remain unchanged If you have any […]
---
Friday, March 7th, 2014
Jonel pulls out the stops for Porter Hire's custom build hydraulic cylinder Jonel manufactured a new hydraulic cylinder for a long reach arm, on a digger used for drilling underwater during harbour dredging. On arrival in Christchurch, a specification change meant urgent modifications were required, so Jonel flew an extra team member down and the […]
---
Monday, January 20th, 2014
Todd Energy had ordered a brand new 17 metre long, 3.2 tonne hydraulic cylinder from Germany for use on an oil rig in Taranaki; but the 40ft shipping container containing the cylinder was damaged in transit. Todd Energy called on Jonel to carry out pressure testing and a thorough check on the large cylinder. Read […]
---
Thursday, April 11th, 2013
Jonel Hydraulics Limited celebrated the launch of their Christchurch branch with by customers, suppliers and well wishers on April the 18th. Located at 29A Epsom Avenue in Sockburn, the Christchurch branch means Jonel can now provide swift service to South Island businesses. Jason Harper, Jonel's South Island Manager, said "I'm very pleased at the reception […]
---
Saturday, August 11th, 2012
From DEMM Magazine Unless you are in the "game", the need for hydraulic tools is intermittent and generally urgent – undoing a nut, tightening up a bolt, lifting a heavy load etc. Depending on what you need buying a "set" can be expensive – from $5000 for a simple jack/pump to upwards of $25,000 for […]
---
Saturday, June 11th, 2011
Time frame critical for hydraulic repairs When Lyttleton Port's Coal Loader was derailed in Christchurch's latest 6.1 earthquake, coal began backing up at the wharf and storage was at an all time low. It was of paramount importance to get the Coal Loader working again as soon as possible. Jonel Hydraulic's swift response to a […]
---
Saturday, June 11th, 2011
Customer demand was the reason Jonel Hydraulics first entered the hydraulic hire business. "For the last two or three years I was always getting asked by customers whether we hire equipment" says Enerpac Product Group Manager, George Pavletich.  "So about 18 months ago I decided to do something about it." During that time business has […]
---
Wednesday, May 11th, 2011
Managing hydraulic lifts of up to 1000 tonnes with 1mm control just got a lot easier Hydraulics company Jonel Hydraulics, who provide industrial tooling and hydraulics services for industries throughout the country, have introduced a range of heavy lifting systems through their partnership with ENERPAC. This includes a multipoint syncronised PLC controlled lifting system. Jonel […]
---
Tuesday, January 11th, 2011
Jonel's Hire & Cylinder Divisions have tracked steady growth over the last year and Jonel has brought two more skilled Fitter and Turners into the team in order to respond to our customer demand. Grant Hammond Grant Hammond has been employed in the Cylinder Division as a Workshop Leading Hand and with over 20 years hydraulics experience he […]
---
Saturday, December 11th, 2010
Graeme Cook was a valued and respected member of the Jonel Hydraulics staff for more than 15 years.  He passed away in December 2011 after a brief illness. Well known within the wider engineering community, there is little that Graeme didn't know about hydraulic cylinders and seals. Legendary for his long standing experience and knowledge in […]
---
Tuesday, August 10th, 2010
The new Enerpac cylinders are designed with the exclusive GR2 bearing system, the next generation of Enerpac's proven "Golden Ring" design. This unique system surrounds the cylinder seal for ultimate protection. It's innovative design also distributes lateral loads more effectively, increasing cylinder life—to help you stay on the job longer. The GR2 easily withstands lateral […]
---
Monday, August 10th, 2009
Jonel Hydraulics international connections played a big part in helping secure a heavy lifting solution for Hawkins Construction for the Aotea Centre upgrade. For the 640 ton car park roof lift Jonel supplied Hawkins with a three phase electric pump, four CLP 160 ton type cylinders and hoses and needle valves. According to Jonel's George […]
---
Monday, August 10th, 2009
Twenty five years experience in hydraulic ram repairs provide Jonel Hydraulics with a key competitive advantage according to company General Manager Graeme Cooke. "We've always specialised in ram (cylinder) repair and our team has a lot of expertise in both the diagnosis of problems and the actual repairs. Our specialist equipment means we can cope […]
---
Friday, July 10th, 2009
Doing the basics right and close liaison with clients have lead to Jonel minimising the impact of the global recession according to Director Suren Surendran. "When the economic down turn first became obvious we consulted with industry veterans and their message was pretty clear – in the boom times everyone gets work, but during a […]
---
Wednesday, September 10th, 2008
Enerpac stressing technology for infrastructure projects Some of the world's most advanced precision stressing technology for construction, resources and infrastructure projects will become more widely available in New Zealand following the introduction by Jonel Hydraulics of specialist Enerpac ranges from Europe. The technology – used on some of Europe and Asia's major projects – includes […]
---
Thursday, April 10th, 2008
Quick-off-the-mark innovator Jonel Hydraulics recognised by Enerpac One of New Zealand's foremost hydraulic service groups has been praised by the international Enerpac extreme force tools organisation as a model of service, followup and professionalism. Jonel Hydraulics Ltd has grown its reputation, resources and skills to be truly world class in its attitudes and expertise, says Enerpac, […]
---