Tuesday, October 17th, 2017
Promotion ends 31 December 2017. All prices exclude GST. Conditions apply.
---
Monday, October 16th, 2017
230V Electric/Hydraulic Strand Cutting Tool Open throat design One size cut all up to 19mm (0.74") super strand Valve; Advance/Hold/Release – manual operation Max pressure; 8400PSI Max current draw; 15A Transparent guard protects against debris L 475mm x H 254mm x W 170mm Contact the Jonel's tooling team now – enerpac@jonel.co.nz or 0800 566 357. […]
---
Monday, May 8th, 2017
Enerpac PTJ Series Single strand stressing jacks PTJ5S (20T) $2,895 PTJ6S (30T) $4,499 See product information for these stressing jacks here. Enerpac ZU4408REA300 $4,995 1.2KW single phase electric pump 'Bleed Off' valve to ensure controlled strand release Optional Heavy Duty Pendant, pay an additional $199 See more information on this electric pump here. […]
---
Monday, February 6th, 2017
Low Height Cylinders & Ultima Hand Pump offer – RCS Series 10-ton RCS101: $449 plus GST 20-ton RCS201: $590 plus GST 30-ton RCS302: $749 plus GST 45-ton RCS502: $960 plus GST      Contact Jonel's Tooling team on 0800 JONELS (0800 566 357) or enerpac@jonel.co.nz. Download the promotion flyer here. Promotion ends 31 March 2017.
---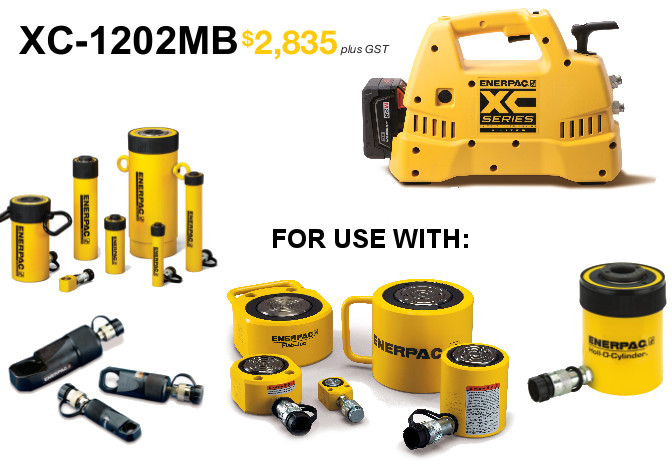 Wednesday, February 1st, 2017
Try our cost effective battery pumps and get moving with Enerpac! XC Series Single or Double acting pumps 700 Bar pressure rated 2 litre oil capacity Suits most single or double acting cylinders to 50 tonne PLUS: Ask us about our HC Series Hoses. Download the special offer flyer here. Model priced is single acting operation […]
---
Wednesday, September 7th, 2016
Enerpac Holl-O-Cylinder Offer includes:
RCH123 (13-ton) Hollow Jack, 76mm stroke
RCH202 (20-ton) Hollow Jack, 49mm stroke
RCH302 (30-ton) Hollow Jack, 64mm stroke
RCH603 (60-ton) Hollow Jack, 76mm stroke.
---
Wednesday, August 10th, 2016
Special pricing valid during August 2016 or while stocks last – Limited Stock, get in fast!
---
Sunday, June 5th, 2016
Taking the stress out of updating your pre & post tension equipment! PTJ Series single strand stressing jacks PTJ5S (20T) $1,995 PTJ6S (30T) $3,995 View the stressing jacks here. 'Double Acting' Enerpac models to suit every stressing application 6DAH306      $2,645 6DAH308      $3,290 6DAH3012*  $3,949 *30 Ton Capacity in 150, 200 […]
---
Tuesday, May 17th, 2016
P39 ULTIMA Hydraulic Steel Hand Pump Enerpac high pressure hydraulic steel hand pumps are the solution for tough jobs Reduced handle effort and ergonomic grip for less operator fatigue Vent free reservoir eliminates spills Quick grip handle allows for easy transport Integral reservoir over-pressurization protection All steel construction, chrome plated plunger and wiper system for […]
---
Monday, May 9th, 2016
Promotion valid from 1 May to 31 July 2016. All prices excluding GST. Pricing is nett, based on 20% discount off trade list price.
---
Thursday, March 17th, 2016
Grab some great deals on these Enerpac jacks, pumps and accessories – during March & April 2016 or while stocks last, at Jonel Hydraulics.
---
Monday, February 8th, 2016
Pick up a fantastic deal with the Enerpac Porta Power Set from Jonel Hydraulics Get 20% off the trade price on a set (cylinder, P392 700 bar rated hand pump, GA45GC gauge and 1.8m HC7206C hose). We'll also throw in free gloves and a free carry case.
---
Monday, October 19th, 2015
Give us a call on 0800 566 357 to take advantage of this exclusive Jonel Hydraulics offer. Promotion valid from October – December 31, 2015.
---